"I've successfully connected to another planet system, which I've designated P13. The first world, P13-001, seems to be remarkably similar to Gamma in our system. The presence of old civilizations are more pronounced, though, with a few ancient temples scattered about. There's even villagers of the same species! Could this be the cradle of their civilization? I've further discovered that this world too connects to the Nether dimension. Perhaps they spread throughout the galaxy through those long and dark passages. In any case, this world and its nether offer vast untapped resources. What discoveries remain around the corner in other parts of this system, I wonder? Due to the difficulty in engaging a connection with another world that far away, I've chosen to leave it connected to P13-001 until we've explored its reaches, including the nebulous End dimension. I speculate that there lies a few hidden underground strongholds with end portals, much like in Gamma."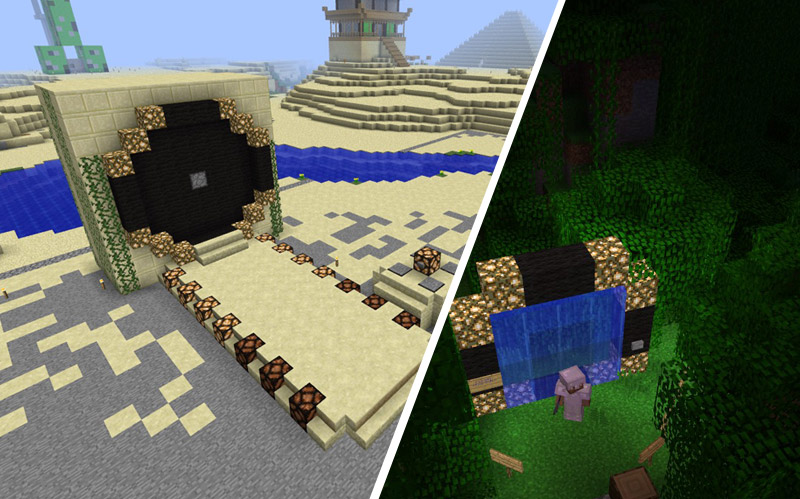 As some may have already found, we now have access to what may be considered resource or temporary worlds. You can get there using the super Stargate just west (old west) of Final City. In practice, they'll be used for materials that get grabbed up quick in our main worlds, like glowstone. But it also has the benefit of seeing some short term changes to the world generation that don't warrant a whole new main world. With Minecraft 1.3 this includes jungle and desert temples. I'll keep this world and its nether/end dimensions up until we defeat the enderdragon, at which point I'll work on replacing it with a new and different world. I hope to have unique settings for each new world, but this one is pretty vanilla. You should know that you cannot teleport in it. So you'll have to make your way back to the Stargate, of which you can't make more. It's also on the hard difficulty, so be careful!
As a side benefit of this, I'm going to make our current End permanent so that people can build there.