Video Guide
Written Guide
Each chest shop sign has four lines on it.
Line 1: The item that can be bought or sold to/from the chest shop. The name or number value may or may not be what you're familiar with as the name of that item. When left-clicking the sign, it'll possibly show you an alternative name for that item.
Line 2: How many items you can buy from the shop for how much currency. (g = gold ingots, i = iron ingots, d = diamonds) (eg. Buy 16 for 1g)
Line 3: How many items you can sell to the shop for how much currency. (eg. Sell 8 for 2d)
Line 4: The owner of the chest shop.
How to use a chest shop
To buy from a shop, simply right-click the shop sign (not the chest) with the currency, indicated at the end of line 2, in your hand. To sell to a shop, right-click the shop sign with the item(s) in your hand.

How to create a chest shop
You need a chest with a wall right up behind it to place a sign on. This can be in the Final City market or anywhere else you choose. The market shop areas in Final City are managed to keep them active, so you may have to ask for permission to setup shop there. Once you've placed the sign on the block above the chest, you follow the pattern seen on other chest shops.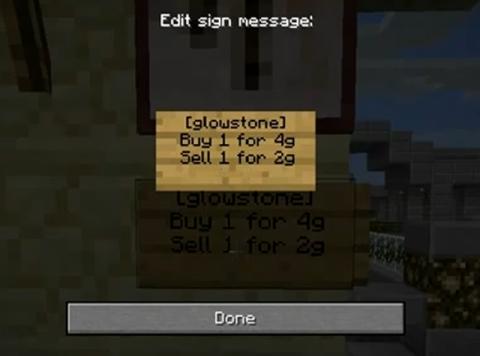 The item name must be exact (though capitalization doesn't matter). Use the Bukkit material names or fall back to id:data values.
The first letter of line 2 & 3 must be capitalized for the sign to work.
You do not have to put your name on the last line. It will be put there automatically.
After you're done, you know it's a success if it puts your name on the sign. Fill the chest with what you're selling, and then double check that it's working and you have the correct name by left-clicking the sign. It should tell you the correct quantity of that item, also. If you're buying stuff back from people (with the 3rd "Sell" line) make sure to put the currency in the chest.
Remember, be fair and have fun!